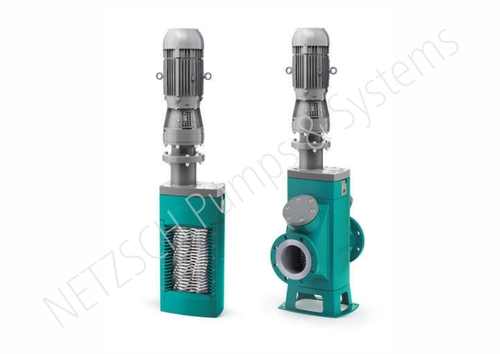 Twin Shaft Macerators
Product Code : N.Mac
Product Description
Product Description
| | |
| --- | --- |
| Brand | NETZSCH |
| Model | N.MAC |
| Design Type | Standard, Customized |
| Material | Mild Steel, Stainless Steel |
| Condition | New |
| Portable | Yes |
| Power Source | Electric Motor |
| Type | Grinders & Macerators |
NETZSCH Twin Shaft Macerators are available in various designs, with flow rates from 1 m3/h to 270 m3/h and a dry matter content of up to 10%. The machine consists of a midway located shaft implemented with a butterfly edge that moves and mixes the mass around the containers. A second changeable speed disperser shaft with a cowless impeller blade operates in short intervals.
Features:
High homogeneity levels
Dual mixing cycles
Three dimensional spiral motion
Some possible application areas of the NETZSCH Twin Shaft Macerators:
Sanatoriums and prisons
Nuclear power plants
Fish processing
Hotels and vacation homes
Airports
Marinas
Highway rest areas and recreation areas
Hospitals
Industrial kitchens
Recreational facilities
Schools and universities
Examples:
Waste water, tin cans, fibrous plant and waste, fish, poultry feathers, glass, rubber, towels, wood and bark, bones, leather, rags, medical waste, sanitary napkins, cardboard, plastic parts, cleaning cloths, sludge, pantyhose, tampons, carpet scraps, soft metals, sugar beets and much more.